RollProf 3T Instrument box is a newly developed data logger for use with RollProf Profile Measuring systems.
The RollProf 3T instrument is a high accuracy instrument that can be used to measure roll profile variations as small as 0.0001mm. The instrument measures the roll profile from two sensors which are positioned on opposite sides of the roll. This results in a higher precision measurement, compared to measuring with a single sensor. The Rollprof 3T can also be used to measure the temperature of the roll surface while measuring the profile. Readings can be taken every 1 millimeter. All inputs are recorded simultaneously by the instrument during measurement. The live readings can be viewed in real time on the display during measurement. The live data can also be viewed simultaneously on a PC screen.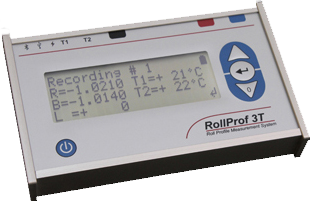 Up to 100 recordings (measurements) can be stored in the instrument before up-loading to PC.
Different recording settings can be selected for instant use.
The RollProf 3T instrument communicates with the PC software via cable (USB) or wirelessly by Bluetooth. Profile recordings can be up-loaded, stored and viewed on PC with the user friendly Profile3T for Windows software, or on Android cellular phones and Tablets (option).
The RollProf 3T is supplied for instant use.
USB/Bluetooth
8mm sensor stroke with 1/1000mm resolution (on each side of roll). Measure up to 16mm profile variation.
Temperature measuring
User friendly
High speed sampling
No maintenance needed
2 years warranty
Robust metal casing
CE, RoHs and FCC approved